RIGEL ONECARE can help you start and stay on track with your TAVALISSE treatment
TAVALISSE is available through a pharmacy, and RIGEL ONECARE can help support you through the process of starting and staying on track with TAVALISSE treatment.
A dedicated TAVALISSE support team
RIGEL ONECARE can help you get off to a smooth start with TAVALISSE by:
Coordinating with your insurance plan and your healthcare providers to determine coverage
Determining eligibility and facilitating enrollment in copay and financial assistance programs 
Contacting you to answer questions to prepare you to start taking TAVALISSE
RIGEL ONECARE can help you stay on track with your healthcare provider's plan
Works with you through the first several weeks of your treatment to provide any additional support
Available Monday-Friday from 8 am to 8 pm ET to answer your questions
Nurse
Navigators
Reimbursement
Specialists
Financial and
Copay Assistance
Educational
Materials
Enroll now!
Call 1-833-rigelOC (833-744-3562) or
650-449-8646, Monday-Friday, 8 am – 8 pm ET.
Pay as little as $15 per prescription with TAVALISSE copay assistance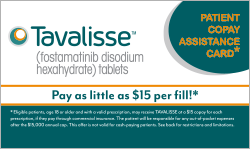 To enroll, visit TAVALISSEcopay.com.
Fill out and submit your information to determine if you are eligible.
Print out the copay card and have it available when speaking with the specialty pharmacy.
Eligibility and limitations
Eligible patients may receive TAVALISSE at a $15 copay for each prescription, if they pay through commercial insurance
Patients must have a valid prescription for TAVALISSE and commercial insurance
Patients must be 18 years of age or older
This offer is not valid for prescriptions reimbursed under Medicare, Medicaid, TriCare or any other federal or state program, or where prohibited by law
The patient will be responsible for any out-of-pocket expenses after the $15,000 annual cap
This offer is not insurance and offer is valid only for prescriptions filled in the United States and Puerto Rico
Not valid for cash-paying patients
Rigel reserves the right to rescind, revoke, or amend this program without notice
Other restrictions may apply. Patient is responsible for applicable taxes, if any
Enroll Now in the Copay AssistanCE Program